Fit, Fast, then Faster... join our pace focused training program
Posted on February 16 2021
There are many training plans around all, and many will argue they are the magical solution to improving running performance. Sadly there is no short cut way to fitness and that is the beauty of running. It is a truly honest sport, you get out what you put in. For sure, the most important aspect of any training program is consistency and continuity. 
We believe there are a number of key sessions each week which are critical in increasing your speed, whilst at the same time increasing your endurance. Speed is a precious commodity, easily lost, hard to regain. If you are lucky enough to have speed, hang onto it for as long as you can. 
Chris Wardlaw**, for many years a regular competitor in Hong Kong trained many world class athletes and he himself represented Australia at the Olympics and his guidance has helped many athletes exceed their own expectations over the years. We take much of our structure from his methodology. 
So what are the key sessions?
1. Tuesday Track Sessions
2. Thursday Tempo
3. Sunday Long Run 
Within the Gone Runners we have structured our weekly training program to provide these critical session. 
The Tuesday session targets an improvement of the athletes aerobic threshold with relative short fast repetitions with well controlled recovery intervals. A typical session would 4 x 800mtrs, 4 x 400mtrs, 4 x 200mtrs with 75 seconds recovery between reps and 3 mins recovery between sets. The longer recovery between sets allows recovery to help maintain pace during the repetitions. 
The Thursday session looks to translate this aerobic threshold into holding at that boundary for a longer duration and managing pace. During a marathon training build up we would work up from 4 x 2km with 2 mins recovery to 4 x 4km with 4mins recovery. Each set, target to run faster than marathon pace and ideally increasing in pace through the session. Alternatively a continuous progressives run can see the athlete increase in pace per km or per lap of say, Happy Valley. Each Km (or Lap) being executed at a faster pace than the last, for something like 7km or 7 laps. 
Contrary to what many training programs recommend, the Sunday Long Run is not an excuse to run "Long Slow, Distance". The aim of the Sunday Long run is to build pacey endurance. This can be achieved by having a fast middle section of 10km in a 30km run or finishing hard for the last 5km of so. 
If you are building the mileage to run a marathon it is worth thinking of the Sunday Long Run as replicating the LAST 30km of your marathon rather than the first 30km. It is often the case that legs will be tired at the start of the long run and this mindset helps cope with the feeling of fatigue. 
Apart from the critical sessions, the process of building volume will involve additional runs on other days of the week. 
A typical marathon build up for a person who starts the training as a reasonably fit individual would be 6 months such a 250km, 300km, 350km, 400km, 450km, 500km. Trying in that to achieve at least 8 weeks back to back at on or above 100km per week.
Step wise filling of the week would include a 3/4 Wednesday run (ie 3/4 of your Sunday long run), double sessions on 3 days in the week and easy recovery runs on Monday and Friday. Its worth knowing that 2 x 10km runs on one day is a lot less stressful on the body that a 20km run.
It is also good to break up the terrain covered to reduce physical and mental stress. a hilly trail run on Saturday can do wonders on both fronts. 
Its important to note that every individuals circumstances will be different and while this is a rough structure its very important to have the program tailored to your specific needs.
We have an excellent, professional coaching staff who can help tailor a program to what works well for you. 
Check our coaches out
HERE 
As we move now into the best running weather of the year it is a fabulous time to focus on getting your pace up and we have the structure, the sessions and the support to help you do that. We look forward to helping you knock your goals out of the park!. 
To join the club and get access to this phenomenal program .... go
HERE
**A Brief Profile of Chris Wardlaw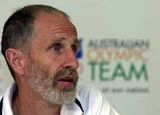 Chris competed in the 1976 and 1980 Olympics at 10,000mtrs and Marathon respectively and has personal bests of 2:11:55, 28:15.6, and 13:34.2 at Marathon, 10,000m and 5,000m respectively. 
He then went on to coach many well known athletes, amongst them Steve Monaghetti  and was the Head Marathon Coach for the Australian Olympic Team at the Beijing Olympics.