Blisters? --- Sock It To 'Em
Posted on April 28 2021
The one thing most runners want to fix early in their running career is how to avoid blisters when running.
There is nothing worse that finding yourself distracted, and in pain during an important race that perhaps you have trained long and hard for, because you have developed blisters on your feet.  
Sock choice plays a huge role in this and the best approach is to experiment well in advance of your important race and then stick to your choice. Of course, correctly fitting shoes are also vital but the correct combination will eliminate blisters for you forever. We don't talk about shoe fit here but lets assume that has been fixed.  
Here we talk about the three brands of socks that we carry in Gone Running.
As runners we have chosen these brands because we believe they have something special to offer. They won't all work for all people but we give you a choice to work through to find what works best for you. We are confident some or all, might work well. 
Moisture is the big enemy and in Hong Kong, the heat, the humidity and occasionally torrential rain means that for most of the year, your feet are going to be wet in your shoes. There is little point trying to keep moisture out and given the quantity, the most important thing is that your socks work with your shoes to drain the moisture from sweat or rain away as fast as possible. 
Add to that friction in the wrong place and you get problems. This is a tricky one though. Sometimes you want friction, sometimes you don't. Specifically what you want to avoid, is your skin moving against the sock with friction. 
Apart from the choice of socks and shoes you also need to experiment with lubrication on your feet at known sore points. Pjur, Gurney Goo and even Vaseline between your toes can be part of your pre race routine.  
We look for sock brands that understand the challenge and have a plausible story on why their particular socks are good 
Further down the blog we have copied what the brands say about each sock but first our own summary. 
YAMATUNE - Japanese brand with some unique construction, You can choose socks with 5 individual toes or with 2 separate toes to prevent rubbing between them. They also have special knitted structures to support the arch and can be bought with anti-slip silicon dots to prevent the socks moving around in your shoes. 
DRYMAX - USA brand knitted from two separate yarns that draw moisture away from the skin to a water absorbing layer rather than rely on "wicking" which they believe doesn't work. The only brand to use a significant proportion of PTFE (Polytetraflouroethylene) which is basically Teflon, in their socks. 
STEIGEN - Australian Brand created by a Commonwealth Games athlete in search of a great solution. Uses Lycra as a material to ensure a snug fit to prevent air pockets developing and creating friction with the foot. 
You can click on this link to view our full sock collection
So this is how each of the brands explains themselves and their unique offering. Don't take their word for it though, its essential you experiment and understand what works best for you. 
YAMATUNE'S claim to fame - what makes them unique?
Japanese designed since 1982, Yamatune Spider Arch Support socks provide excellent arch support plus moisture-wicking CoolMax and a seamless low friction construction, perfect for runners in tropical climates.
Two toe socks - Increases force to toes for an efficient kicking motion
Linking Tech- Linked toe stem gives the feeling of no seam
Ankle Support - With tapping effect prevents possible sport injuries and provide fit for ankle
CoolMax - amazing moisture management to keep feet cool, dry and comfortable
Aeration mesh structure - provides air permeability to reduce excess moisture
Fatigue Reduction & Spider Shape Supporter - Knit structure support so your arch doesn't get tired easily
Toe & Heel Pile - With cushion pile toe and heel protection
Instantaneous Force - With silicon bar reduces the unnecessary movement in the shoes
2 and 5-Toe Designs - 5-toe design separates each digit, allowing the toes to splay naturally and function individually, which produces greater toe dexterity and provides a higher degree of comfort and support, whilst helping to prevent interdigital blisters, keeping you moving for longer. 2-toe design for a more efficient kick
Round Toe Design - The round toe sock features a reinforced toe and heel, ensuring a high degree of durability, with a supportive and quick drying material cradling the foot as you move, helping to facilitate shock absorption and reduce foot fatigue.
The Spider Arch. The Spider Arch system has been developed to provide support to the ankle, instep and foot arch, increasing overall foot stability and facilitating the natural movement and function of the arch. The unique web-like structure of the support system wraps around the foot and reduces impact stress, with a mesh-like fabric reducing moisture and facilitating airflow as you move.
Silicon Dots. Silicon dots cover the underside of some models of socks and aid in reducing foot movement within the shoe and on other surfaces by increasing traction, reducing the risk of blisters and making the sock extremely versatile for a range of activities, such as yoga, pilates and strength training.
Short, middle and long versions available. 

DRYMAX claim to fame - what makes them unique?
Maximum Protection Version:  Running long distances on uneven debris-laden trails can be very challenging experiencing variables that don't exist on roads and tracks.  Because of this and at the request of many trail runners, we engineered our toughest sock in the line; the Maximum Protection Trail Running sock. This sock uses the same anti-friction PTFE technology as the Maximum Protection Running sock, but we added several Trail Specific features.
Maximum Protection Trail Running socks are race-proven to help prevent foot blisters during trail marathons and ultra-long distance trail runs. There are no vents in the sock, reducing debris from irritating the foot.  The 1/4 Crew leg is double thick and can fold down to offer a mini crew option that is four layers thick. Running blister-free, runners can lower their times, increase their mileage, and have a lot more fun.
This sock was worn by iconic ultrarunner Ellie Greenwood to set the new WOMAN'S COURSE RECORD at the iconic WESTERN STATES 100 MILE ENDURANCE RUN suffering zero blisters in a stunning time of 16hrs, 47 min, 19 seconds.
Lite Version:  The Lite Trail sock is our #1 selling Trail sock. It's evolved from the 2018 model to be lighter overall and smoother on the inside along with a seamless toe. Don't let the "Lite" name fool you, this sock is ready to take on the most challenging trails.
Drymax Lite Trail Running Socks have evolved from our 2018 model to be lighter, smoother and more robust. Designed to take on the most epic of trails, these streamlined trail socks feel downright plush. Advancements in our knitting techniques have resulted in breakthroughs of their appearance, seamless toe and elimination of yarn ends next to the foot which might cause irritation or blisters.
29% Drymax/Olefin, 27% Polyester, 4% Elastane, 3% Nylon, 37% PTFE (Polytetrafluoroethylene)
For runners, moisture is the foot's worst enemy. Moisture causes painful, even race-ending blisters, Athlete's Foot fungus, odor causing bacteria and over-all discomfort. Runners' feet get wet either from sweat, puddles, wet grass, rain, snow, or by getting splashed at a race water station. In cold/freezing weather, moisture on the skin pulls heat away 23 times faster than air, reducing the temperature so rapidly that wet feet become painfully cold and much more susceptible to frostbite or Non-Freezing Cold Injury.
MARKETING HYPE CAN'T ESCAPE THE LAWS OF PHYSICS
Wicking fibre socks all claim to keep feet dry. However this is marketing hype and doesn't change the fact that wicking fibre socks are not able to keep feet dry.
Because wicking fibres attract moisture and are next to the skin, they hold moisture against the skin, keeping skin wet. Once wet, wicking fibre socks remain wet until well after the sweating stops and the slow process of evaporation inside a shoe takes place.
Wicking fibre technology works for a shirt where the sweat can evaporate into the open air, versus a sock trapped inside a shoe where little if any evaporation can take place.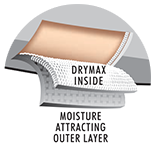 Dryness Only 2 Different Technology Layers Can Provide. The laws of physics dictate that no single fiber technology can attract and repel moisture at the same time. To overcome this, drymax products utilize different fiber technologies interwoven to form inner and outer layers.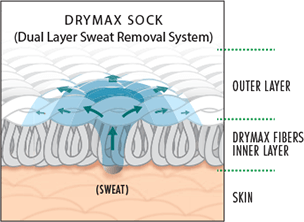 Removing Sweat From the skin because moisture does not adhere to the drymax fibers, they are able to mechanically lift sweat off the skin like a squeegee and transfer it into the moisture attracting outer layer without retaining this moisture on the inside.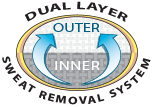 A Self-Contained System – Guaranteed to Work
We designed a self-contained Dual Layer Sweat Removal System so we did not have to rely on the shoes to help keep feet dry. This system works so well we guarantee it will keep feet dry and comfortable in all types of footwear and in cold, hot and even wet conditions.
Our Gone Running/Joint Dynamics Team Member - JCY Ho is a long time fan of Drymax socks and she has used them in some pretty extreme races. Here's what she says about them. 
"Anything that I chose to wear on me has only one reason. It will not create discomfort. I have been wearing Drymax for more than 4 years literally every single race! The longest 100miles in 36 hours without changing. I never had any blister wearing them. Well also helps when you pair it with the right shoe! My motto - No pain then you will have a lot of gain"
STEIGEN'S claim to fame - what makes them unique?
Blisters are caused by two things:
1. Moisture – If your feet are wet or sweating due to the conditions you are running in, an environment is created where blisters can form.
In Steigen socks, there are NO elements of cotton, wool, or bamboo. Being heavy in nature, these fabrics have the ability to hold moisture that ultimately cause discomfort. Our combination of Lycra and Microfiber Nylon creates a quick-drying effect, preventing moisture from being withheld inside the athlete's foot.
2. Friction – Friction is going to be the inevitable during exercise; how we manage it will determine the level of comfort inside your shoe.
Having a range of different features, Steigen socks have been specifically designed to benefit our customers. An additional percentage of Lycra has been key in Steigen's design, allowing the arch of the foot to be supported, no air pockets to be created, and therefore preventing any friction. Furthermore, the reinforced Lycra around the sock band prevents no slipping or rubbing from occurring inside the foot.
Steigen utilises the highest quality materials sourced from around the world. Creating products with a specialised design tested in all conditions, Steigen has created an environment where blisters are less likely to form. By reducing heat, friction and sweat, Steigen Socks give you the chance to perform at your best and to rise to the pinnacle of every challenge.
Features
Forefoot pad for comfort and durability
Arch supports
Lightweight fabric for fast moisture transfer and breathability
Microfiber nylon (80%) with Lycra (20%) for form fit
Airflow top mesh
Super flat toe seam for superior comfort
Ankle-crease reduction channels
Greater control
Size fit 5-12 Unisex